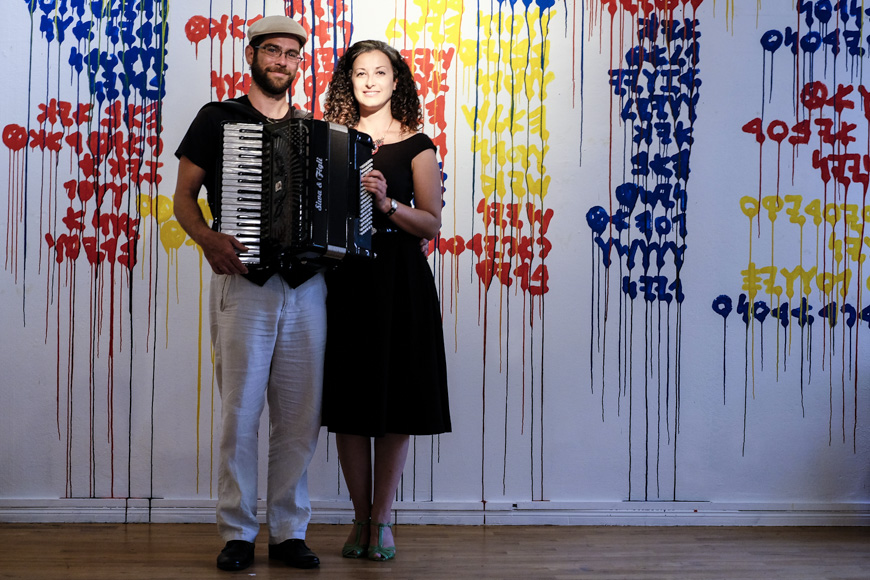 Concert with Sveta Kundish & Patrick Farrell
Opening Concert of "Nisht-keyn-Festival" by SHTETL BERLIN.
For almost a decade, Sveta Kundish & Patrick Farrell have been developing contemporary Yiddish art song almost effortlessly. Farrell's compositions breathe with great depth and uniquely plumb the interplay of accordion and song. Together Kundish & Farrell distill and interpret lider from the rich trove of Yiddish poetry.
A response to their recently released debut album as a duo, Nem Mayn Vort:
Kundish & Farrell are bringing an entirely new perspective to the world of Yiddish music with their fierce focus on both text and musical composition, their equal dedication to traditional and contemporary musical practice, and their rare virtuosity as performers. "Nem mayn vort" is a remarkable document of their artistry.

DanZone Records
Sveta Kundish is a singer who performs a wide variety of Jewish music throughout Europe. She appears with Voices of Ashkenaz and Trickster Orchestra among others, and is a regular faculty member at Yiddish Summer Weimar. Born in Ukraine and later moving to Israel, Kundish holds degrees from Tel Aviv University and the Prayner Konservatorium in Vienna, and in 2017 completed a degree in Cantorial Studies from the Abraham Geiger Kolleg in Potsdam, Germany. Kundish currently works as the first female Cantor in the history of the Jewish Communities of Lower Saxony, Germany.
Patrick Farrell is an accordionist, composer and bandleader from Brooklyn, New York. An artist of "sharp wit and blistering speed" (NY Music Daily), he is at home in many different musical styles. Farrell has played as a guest with Frank London's Klezmer Brass All-Stars and Alicia Svigals' Klezmer Fiddle Express. He is also a composer, musical director, and accompanist for various theater and dance companies.
Wednesday, 14 December 2022, 7PM
during the exhibition MIR ZENEN DO! [photos]
NOVILLA
Hasselwerder Str. 22
12439 Berlin-Schöneweide
Admission free — Donations welcome
With the kind support of the Partnership for Democracy Schöneweide with funds from the federal program Democracy Live!