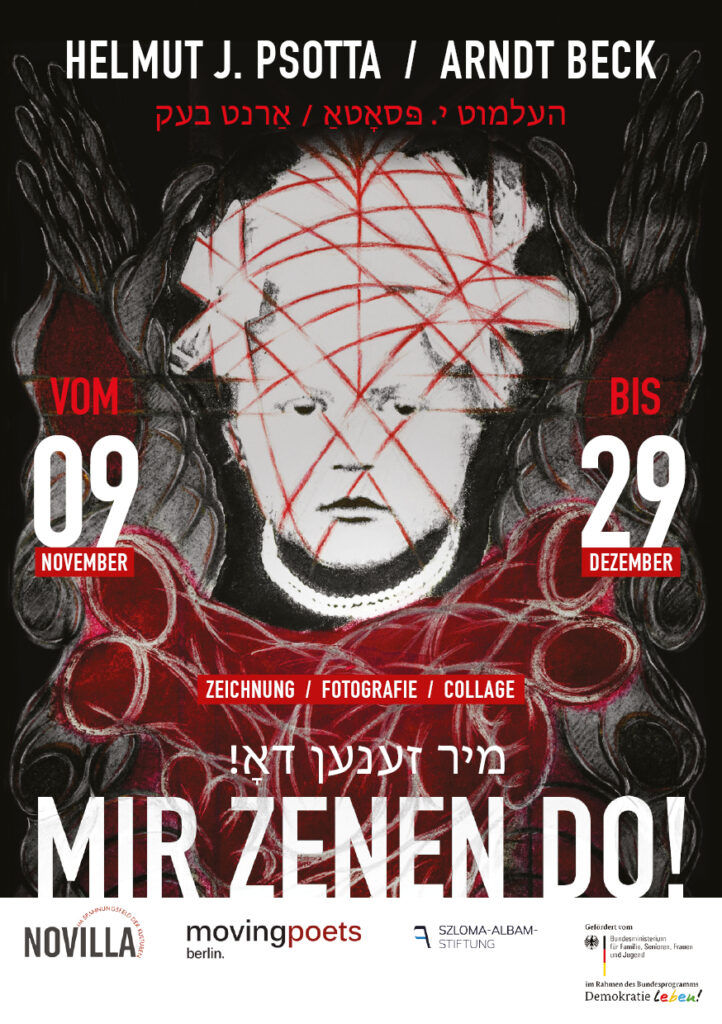 From H.J. Psotta's 85th birthday to the 10th anniversary of his death, moving poets berlin/NOVILLA are exhibiting images from seven decades and releasing Psotta from oblivion. The focus is on his _rosa paraphrases, a cycle that began as part of the collage series Pornography in 1978–79, when Psotta first reproduced a childhood photograph of his mother Rosa. His engagement with this photograph continued in various guises, culminating in his Peruvian drawing cycles from his time with Grupo Chaclacayo (1982-88), where he linked the image of the mother with that of Saint Rosa of Lima, stylizing it into a universal symbol of suffering. This preoccupation lasted almost a decade and this last act alone encompasses more than 100 A3-sized sheets… We are displaying some of them.
Other aspects are offered by the cycle Ode tsu der toyb. In early 2022, Arndt Beck once again took up a theme from the Yiddish poet Avrom Sutzkever by interweaving the photograph of Martha, the very last North American passenger pigeon who died in captivity in 1914, with Sutzkever's book-length poem. This ode is complemented by Psotta's earlier works and photographs by Beck, all of which thematically play with the symbol of the pigeon.
In Psotta, we find an artist who added something unique to his time, who waves at us from the beyond with a smile, full of unspent beauty, because he preferred to fly under the radar.
Opening: November 9, 7 pm
Music: Zhenja Oks
NOVILLA
Hasselwerder Str. 22
12439 Berlin-Schöneweide
Opening hours: Wed 6-9 pm | Sat 4-7 pm | Sun 2-5 pm
at all events and by appointment: mobe@movingpoets.org | +49 177 3154530
Not on 24/25 December
***
Further events in cooperation with yiddish.berlin:
November 22, 7 pm: Ukraine in the Works of Scholem Aleichem with Oleksandra Uralova (Facebook event) cancelled due to illness!
December 01, 7 pm: Yiddish and Ukraine – A View through the Translation with Katerina Kuznetsova and Iryna Zrobok (Facebook event)
December 08, 8 pm: Queer Yiddish with Jake Schneider (Facebook event)
December 14, 7 pm: New Yiddish Song with Sveta Kundish & Patrick Farrell (Facebook event)
December 29, 8 pm: H.J. Psottas Yortsayt with Arndt Beck (Facebook event)
Detailed info coming soon here.