A Book Presentation with Historian Barry Trachtenberg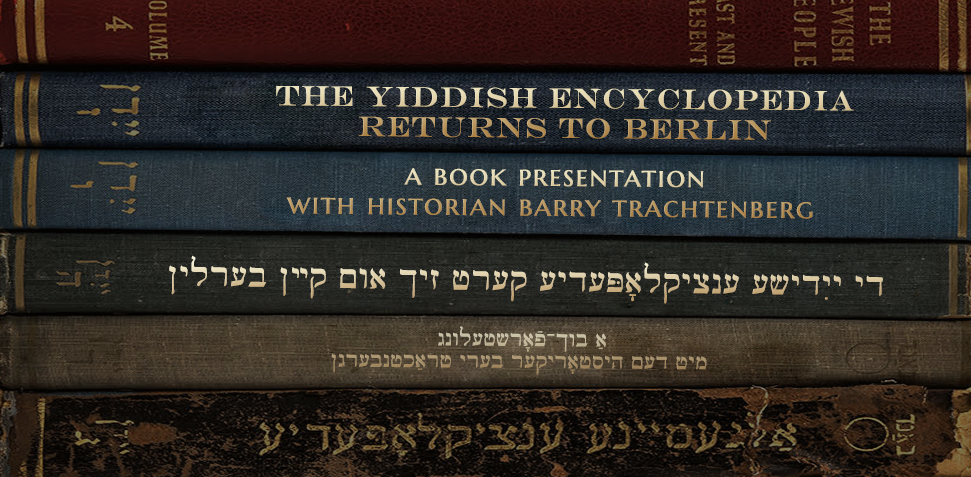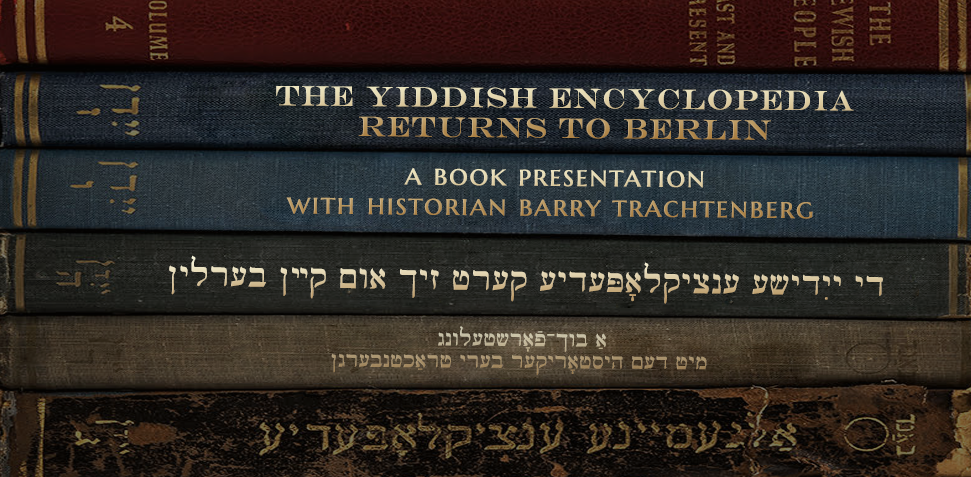 We are pleased to host a book presentation by historian Barry Trachtenberg of Wake Forest University, author of the new book The Holocaust and the Exile of Yiddish: A History of the Algemeyne Entsiklopedye (Rutgers University Press). His study traces an ambitious project that started in the 1930s, right here in Berlin: to publish a comprehensive encyclopedia of general knowledge completely in the Yiddish language. This dream drastically changed course within several years as the editors fled the Nazi regime and their intended readership of Eastern European Jews was decimated by genocide, dispersed by mass migration, and diluted by cultural assimilation.
In the mid-twentieth century, the project sparked tremendous controversy in Jewish cultural and political circles: What should a Yiddish encyclopedia be for? What knowledge and perspectives should it contain? By the time the last volumes were published, in 1960s New York, both the Yiddish-speaking world and the encyclopedia itself had been completely transformed by postwar circumstances. As Trachtenberg argues, this is not only a story about destruction and trauma, but also one of tenacity and continuity, as the encyclopedia's compilers strove to preserve the heritage of Yiddish culture, to document its near-total extermination in the Holocaust, and to chart its path into the future.
The English-language book presentation by Barry Trachtenberg will be moderated by Jake Schneider of YIDDISH BERLIN. Questions from the audience are welcome – feel free to ask them in English, Yiddish, or German. This event accompanies our current exhibition Plague | War | Mother Tongue, which you can view at the gallery, featuring artworks by Ella Ponizovsky Bergelson, Arndt Beck, and the late Helmut J. Psotta.
More information about the book here on the website of Rutgers University Press.
Event information
28 May 2022, 7pm
Galerie Zeitzone, Adalbertstraße 79, 10997 Berlin
Admission free
Presentation and discussion in English, questions in Yiddish or German welcome
Copies of the book will be available for sale
---
Barry Trachtenberg holds the Rubin Presidential Chair of Jewish History at Wake Forest University in North Carolina (USA). He is the author of The Revolutionary Roots of Modern Yiddish, 1903-1917 (2008) & The United States and the Nazi Holocaust: Race, Refuge, and Remembrance (2018).