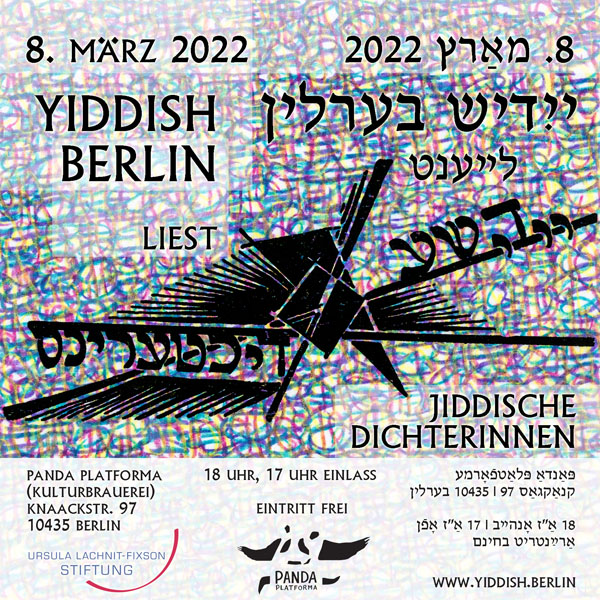 In response to the war in Ukraine, which has deeply shaken us all, we adjusted the focus of our event on International Women's Day. Many of the Yiddish poets we presented were born or lived in Ukraine. We spoke about their experiences with war, invasion, and displacement and emphasized their connections to Ukraine. We, YIDDISH Berlin, are unanimous in our support for all people living in Ukraine and used this event as an opportunity to raise awareness of Ukraine's history and culture.
At the event, we also collected donations, which we used to acquire medications for people in need in Ukraine.
The program included recitations of poems and musical renditions of work by the following authors, all of them women:
Marina Alexeeva | Rivka Basman Ben-Hayim | Celia Dropkin |  Irena Klepfisz | Rokhl H. Korn | Anna Margolin | Kadia Molodowsky | Miriam Ulinover | Debora Vogel
The participants included:
Arndt Beck | Patrick Farrell | Hilde Haberland | Sveta Kundish | Katerina Kuznetsova | Anna Rozenfeld | Jordan Lee Schnee | Jake Schneider | Maria Stazherova
Tuesday, 8 March 2022, 6 pm
PANDA platforma
(KulturBrauerei)
Knaackstr. 97
10435 Berlin
Free admission
The event was also livestreamed, thanks to PANDA platforma. You can watch a recording of the event here:
A reader of originals and translations corresponding to the performances can be found here (pdf).
Sponsored by the Ursula Lachnit Fixson Foundation