After the closing of our successful exhibition Mageyfe | Milkhome | Mame-Loshn in June, we've taken a short break from organizing events to enjoy a busy summer of other Yiddish activities. The one exception is our twice-monthly conversation group (shmueskrayz) "Shmues un Vayn," which will be meeting next on the 4th and 16th of August. If you are in town and would like to join us, please email us for the locations and to join the shmueskrayz mailing list. Recent guests to the shmueskrayz have included Karo Wegner from Poland, Reb Noyekh Barrera from California, and Prof. Sara Feldman of Harvard University.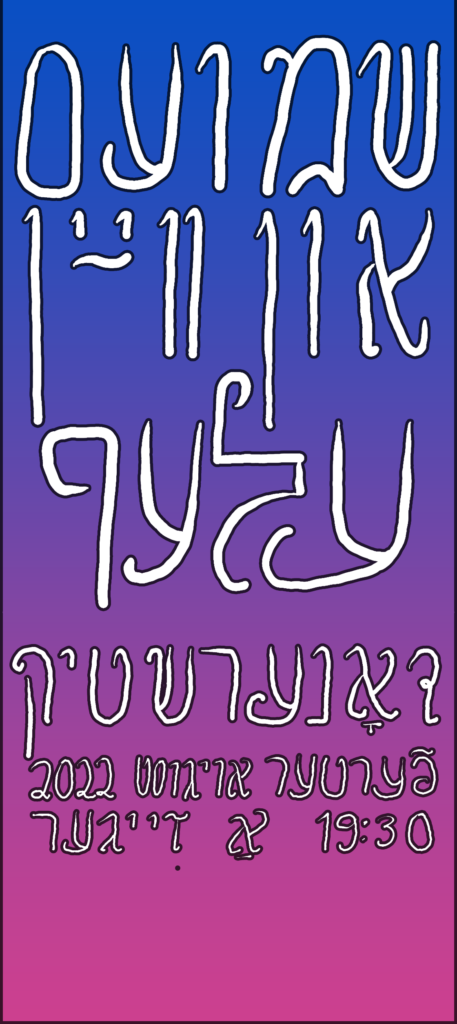 On the somber 70th anniversary of the Night of the Murdered Soviet Yiddish Poets, we will not be hosting our own commemoration as we have the past four years. However, we will of course be individually involved in at least two of the many events to mark this sad occasion organized by other groups and institutions. We encourage you to join us at the symposium and reading at the Jewish Museum Berlin on 14 August as part of the Yiddish in Berlin summer program, or the night of remembrance on 12 August in Weimar, as part of Yiddish Summer Weimar.
Meanwhile, members of Yiddish.Berlin have recently been involved in:
An ELES Seminar in Rheinsberg about Yiddish run by four of us (Jordan Lee Schnee, Anna Rozenfeld, Irad Ben Isaak, and Katerina Kuznetsova) and featuring a performance by Daniel Kahn
The conference "The Avant-Garde in Yiddish Culture: The 100th Anniversary of Khalyastre" at Bar-Ilan University, including a presentation by Irad Ben Isaak
Generation J, a Yiddish-themed summer camp for young adults in Weimar
The first ever UK Yiddish Sof-Vokh: 48 hours of nonstop Yiddish in Yorkshire, including a Yiddish poetry writing workshop with Jake Schneider
Shtetl Berlin's latest jam-packed "kleznick" (Klezmer picnic) by the Landwehr canal (photo below)
The bountiful musical, cultural, and Yiddish language programming at Yiddish Summer Weimar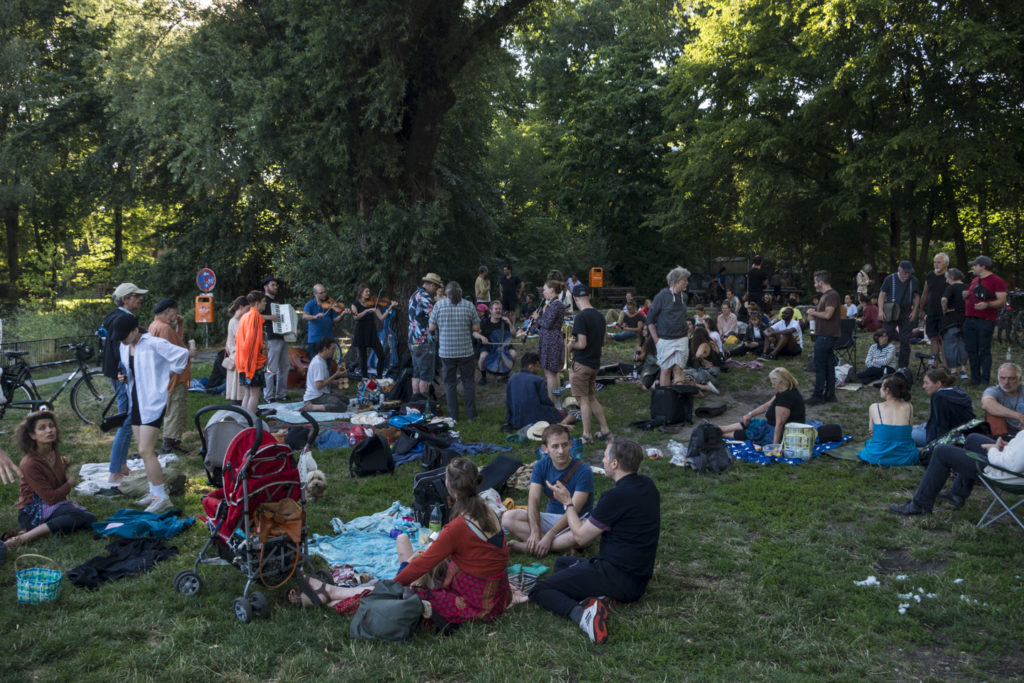 Some of us will also be taking part in the comprehensive Yiddish in Berlin summer program organized by the Paris Yiddish Center – Medem Library in partnership with the FU's Institute for East European Studies , which begins next week and is partnering with us for our second August shmueskrayz gathering.
We will be announcing more events of our own soon, and meanwhile we hope to see you af der yidisher gas!