Anshel, undzer zeyde: Bashevis Singer's Yentl from a Trans Perspective
LECTURE
25 August 2019, 4pm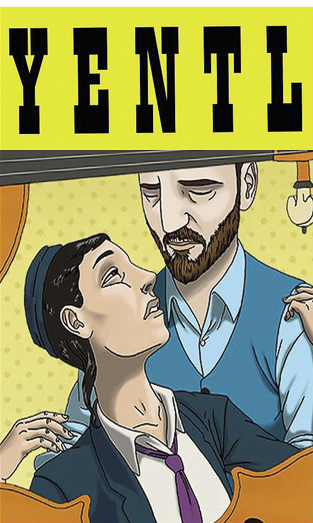 Isaac Bashevis Singer's short story Yentl der yeshive bokher, written in New York in the 1950s and set in 19th century Poland, is one of the most famous narratives of modern Yiddish literature. The plot centers on young Yentl who leaves the shtetl Yanev behind after having become an orphan. Unwilling to live the life traditionally intended for a Jewish woman, the protagonist finds a way into a Yeshiva — presenting as Anshel, a young man eager to study the Talmud. At the Yeshiva of Bechew, Anshel not only gains the repudiation of being an exemplary and bright-minded yeshiva bokher (student in a Yeshiva) but also becomes involved in a triangle of desire: The attraction between Anshel and Anshel's shutef (study partner) Avigdor is inextricably bound up with both their attraction to Avigdor's impossible love interest, Hadass. Soon, Anshel's multi-layered desire and gender identity come up against the limits of the world of Bechew, and Anshel has to decide about the future.
Is there a path that allows Anshel to fully embody a true self, having "the soul of a man and the body of a woman"?
In the talk, Balling will investigate the ongoing fascination for Bashevis Singer's short story by discussing a part of its rich reception history. Being adapted into a famous movie and various plays — that at times differ considerably from the original text in terms of contents and politics — it has been interpreted likewise as a narrative that restores rigid ideas about gender differences and celebrated as a transgression of such. Balling will especially focus on how Yentl was read in light of second wave feminism and is today sometimes interpreted as a trans narrative: What could it look like to read this story from a trans perspective? What if we read Yentl as Anshel, undzer zeyde?
The languages of the event will be EN | YI.
Admission free – donations welcome!
Jonathan-Rafael Balling is a PhD student at Stanford University. His work engages with questions of gender politics in German-Jewish and Yiddish literatures as well as queer and trans life narratives. Rafael holds a Master's degree in Comparative Literature from Eberhard-Karls-Universität Tübingen and has previously worked at Europa Universität Viadrina and the University of Texas, El Paso.