Staged Reading: Sutzkever´s poeme Ode tsu der toyb
TRILINGUAL READING
25 January 2020, 7pm
The poeme Ode to the Dove is a kheshbm-hanefesh, a 'spiritual stocktaking'; in it the poetic ikh looks back on his past and seeks to justify his poetic vocation, asking himself whether he can still pursue his calling after the Holocaust. It takes the form of a dialogue with the muse, the dove, which was born during his early childhood in Siberia, from the feather of an angel´s wing. The dove accompanies the poetic ikh through his nightmare memories of the war years, which are depicted in surreal images; she finally dispels his anguished doubts about the possibility of creating art after the Holocaust. […]
Sutzkever´s ode is his most classical work, marrying the form to the idea. Its ten sections, each consisting of four four-line rhymed stanzas, achieve a slow, stately rhythm through the regular classical meter: dactylic hexameters with a caesura in each line, metrical form associated with Greek and Latin verse. This formal harmony echoed in the conclusion of the poem, when the dark forces of destruction give way to an Apollonian concept of poetic creativity; the temple, which had been burnt out, can be rebuilt in the new land, mit zunikn seykhl, with sunlit reason."
Heather Valencia
Avrom Sutzkever´s Life and Work, in: A. Sutzkever, Still My Word Sings, Düsseldorf 2017, p. 273f.
The languages of the event will be DE | EN | YI.
Admission free – donations welcome!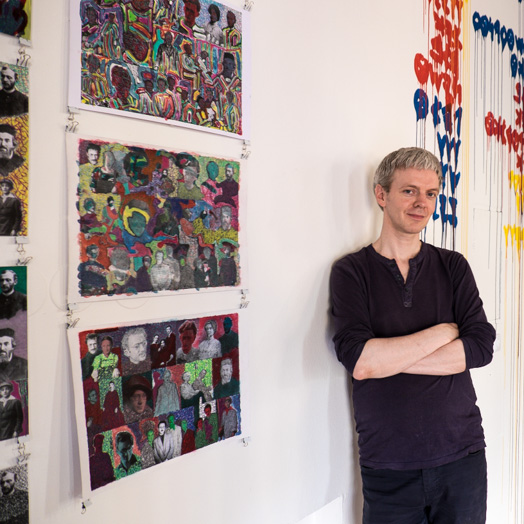 Arndt Beck was born in 1973. He has worked as a freelance artist in varied disciplines like photography, painting, and text. As the heir to Helmut J. Psotta's estate, he also sees himself as the representative of his work. Additionally, Beck has been deeply involved in Yiddish language and culture for the last few years and has put together many lectures and programs.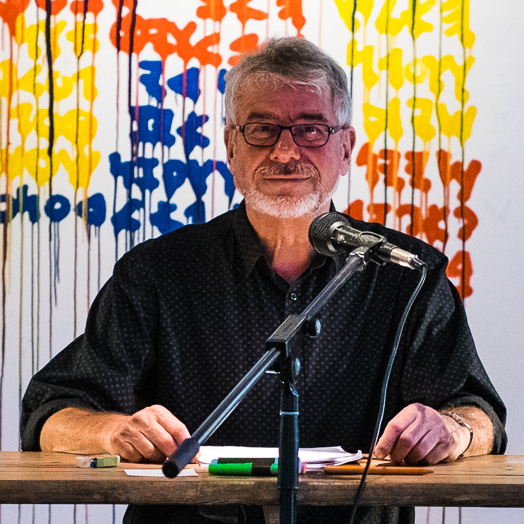 Horst Bernhardt was born in Bad Hersfeld in 1950. He studied Slavic and Finno-Ugric linguistics, and Eastern European history in Göttingen and Berlin. From 1982 to 2017, he lived in Finnland, and since then he has been back in Berlin. Bernhardt is a teacher and a literary translator, mainly of Finnish and Estonian. He has been involved with Yiddish since the mid-60s.
Jordan Lee Schnee lives in Berlin, Germany where he is a writer, translator, and musician. His published translations into English include Dvoyre Vogel (Yiddish), Wáshington Cucurto (Argentine Spanish), Mehdi Belhaj Kacem (French), and Jörg Fauser (German). His band, The Rixdorf Rounders, has played around Europe. He also performs solo with original music as well as Yiddish and American traditional songs.