Vos iz mer vi lebn?
POETRY EVENING
20 January 2020, 7pm
On Avrom Sutzkever´s 10th yortsayt, Yiddish Berlin is delighted to invite you to an evening of his poetry performed by Anna Rozenfeld and Arndt Beck in Yiddish with English translation. The program entitled Vos iz mer vi lebn? (What's more than living?) consists of poems from Blonder baginen (Blond Dawn, 1934–37), Epitafn (Epitaphs, 1943-46), Di festung (The Fortress, 1941-1944), Lider fun Geto (Poems of the Ghetto, 1946), Helfandn bay nakht (Elephants at Night, 1950-54), Fun zikh tsu zikh (From Myself to Myself, 1956), Tsaytike penemer (Ripe Faces, 1968–70), Di fidlroyz (The Fiddle Rose, 1970-72), Lider fun togbukh (Poems from a Diary, 1974-77) and fragments of prose from Griner akvarium (Green Aquarium, 1953-54), selected by Anna Rozenfeld and interspersed with the music of DJ Lenar.
Poetry lecture in YI, translations (screens) in EN.
Admission free – donations welcome!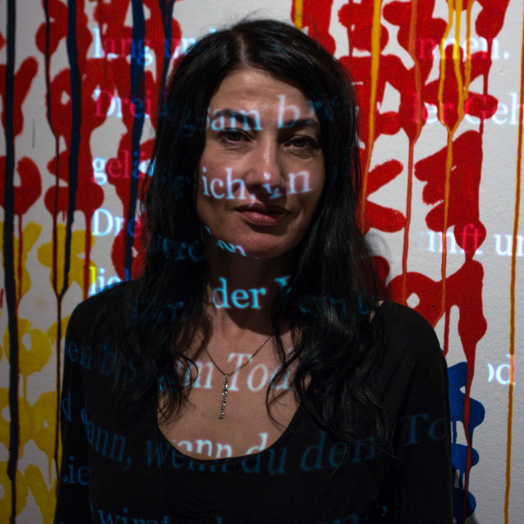 Anna Rozenfeld, Yiddish speaker, Jewish history and Yiddish language and culture researcher, painter and actress. Translator and language instructor of Yiddish. A professional Yiddish performer on Polish Radio and at the Jewish Theatre in Warsaw. She pursues her own artistic, research and educational projects, cooperates with numerous institutions and Jewish culture festivals in Poland and abroad.
Arndt Beck has worked as a freelance artist in varied disciplines like photography, painting, and text. As the heir to Helmut J. Psotta's estate, he also sees himself as the representative of his work. Additionally, Beck has been deeply involved in Yiddish language and culture for the last few years and has put together many lectures and programs.